11/dic/07
Eventos paralelos, Veracruz y Beirut.
Emigrants to Mexico honored - twice
By The Daily Star

Tuesday, December 11, 2007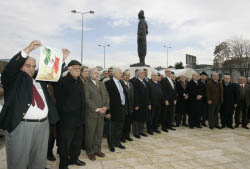 BEIRUT: Two separate ceremonies were held in Mexico and Lebanon over the weekend to highlight the contributions of Lebanese emigrants in the North American country.
In Mexico, a public monument dedicated to Lebanese emigrants was formally unveiled on Saturday in the port city of Veracruz, a popular landing point for Lebanese entering the country. The monument, which was officially dedicated during a commemorative ceremony, includes a replica of the bronze statue of the Lebanese Emigrant on Charles Helou Avenue in Achrafieh, Beirut.
Meanwhile in Lebanon, a similar dedication ceremony was held at the statue of the Lebanese Emigrant, which faces the Port of Beirut, a main point of departure for the thousands of Lebanese who have left the country for Mexico over the past century.
The Beirut ceremony was attended by former Minister and Maronite League leader Michel Edde; the head of the Mexican Lebanese Friendship Association, Georges Hayak; the Mexican ambassador to Lebanon, Jorge Alvarez; and the honorary consul of Mexico, Roger Abed. Members of the Mexican community in Lebanon also participated in the event.
Both ceremonies highlighted "the contributions of Lebanese emigrants to Mexico, as well as their deep attachment to their ancestral roots and land," a statement issued by the Mexican Embassy said.
"Many young Lebanese and Mexican men and women are thinking of or planning to emigrate to one of the corners of this world," it said, adding that it is therefore high time to shed light on the multi-faceted phenomenon of migration.
It said Lebanese emigrants are an "integral component" of the population of Mexico, and "are involved in every walk of life and successful in every profession." - The Daily Star.